Add a seat review and win tickets to see
Les Misérables at the Queen's Theatre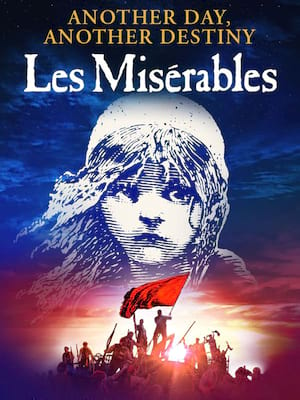 December 2015 saw one lucky SeatPlan member walk away with tickets to the upcoming producton of Disney's Aladdin. Our prize for January 2016 is a pair of tickets to a more established West End production, Les Misérables, London's longest running musical.

This epic production recently celebrated it's 30 year anniversary and has played to over 70 million people worldwide. Produced by Cameron Mackintosh and adapted for the stage by Claude-Michel Schönberg and Alain Boublil (Miss Saigon), the show has also featured celebrity cast members such as Alfie Boe, Matt Lucas, Frances Ruffelle and John Owen-Jones.

Les Misérables follows the life of a French peasant, Jean Valjean. Having spent 19 years in jail for stealing a loaf of bread to give to his sister's starving child, he decides to then break his parole and start a new life elsewhere. An inspiring journey ensues, as he fights alongside other young idealists in the French revolution for the good of the people.

If you'd like to get your gloves on tickets to this legendary production, you can enter our competition by adding a seat review for a show you have seen recently. Just hit the green button below to get started.
The winner will be allocated 2 tickets worth £150 for a performance on a day of their choosing.
Make sure you enter soon - The competition closes on the 12th February 2016!
Past competition winners
Aladdin

31 December 2015

Elf! The Musical

30 November 2015

Lion King

30 October 2015

Miss Saigon

23 October 2015

Matilda

16 October 2015

Wicked the Musical

09 October 2015

Farinelli and the King

30 September 2015

The Book of Mormon

7 September 2014

Impossible!

31 July 2015

The Commitments

22 June 2015

The Elephant Man

02 June 2015

The Elephant Man

29 May 2015

Pasha Kovalev

Winner of Best Review Apr 2015

28 April 2015

The Play That Goes Wrong

Winner of Best Review Nov 2014

21 November 2014

Wolf Hall

5 September 2014

Henry V

31 January 2014

A Midsummer Night's Dream

4 November 2013

Jersey Boys

7 October 2013

The Cripple of Inishmaan

15 August 2013

Charlie and the Chocolate Factory

30 June 2013

Merrily We Roll Along

31 May 2013

Once

30 April 2013

The Book of Mormon

31 March 2013

The Book of Mormon

28 February 2013

Twelfth Night

31 January 2013
Competition terms & conditions
There is no upper limit on entries, the more seating reviews you write the greater your chance is of winning!
Reviews are entered into the competition according to the date when they are first submitted. Deleting and then re-submitting your submission in an effort to be considered for multiple competitions will therefore not work!
Prizes may not be substituted.
Copied, duplicated, or false seating reviews are not accepted and may result in your membership being terminated.
The judge's decision is final.
Prizes are non-transferable and can only be used by the winners on the specific days outlined in the competition rules. If the competition is for tickets to a specific date, these can not be exchanged or altered.